Browse Dates
Su
Mo
Tu
We
Th
Fr
Sa
Loading...
Go to previous month
Go to next month
Information
Physical Box Office Hours:

Tuesday - Friday 10:00am - 2:00pm
Saturday 10:00am - 12:00pm
Phone Hours:
Monday - Friday 10:00am - 5:00pm
10 A Street
Derry, NH 03038
(603) 437-5100

The 8th Annual Bob Dylan Birthday Bash for The Brad Delp Foundation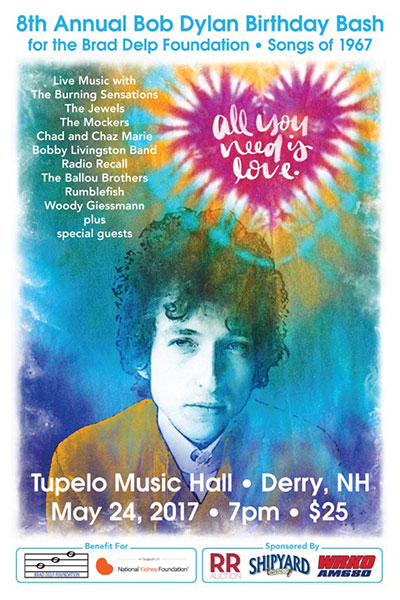 1967: All You Need Is Love - The 8th Annual Bob Dylan Birthday Bash for the Brad Delp Foundation
"1967 was a hell of a year in music history and this year's event is gonna be a hell of a party!" -Mike Girard, The Fools & The Burning Sensations
The annual Bob Dylan Birthday Bash features some of the best local musicians coming together to support The Brad Delp Foundation. Each year, event founder Bobby Livingston assigns a theme to the performers to guide their songs choices. This year's theme is 1967, the year psychedelia was born!
Tupelo's stage will be graced by a dozen bands including Chad and Chaz Marie LaMarsh, Gardner Berry, The Bobby Livingston Band, Amy Fairchild, Alexandria Bianco and Denise Cascione, collectively known as The Jewels of Mike Girard's Big Swinging Thing, The Ballou Brothers, Rumblefish, The Mockers, and The Burning Sensations, featuring Mike Girard and Rich Bartlett of The Fools, Steve Baker, Bob Jennings and Joe Holaday of Beatle Juice, and PJ Holaday of LUX.
Each artist will pay tribute to the eclectic music of '67 with songs by The Doors, The Animals, Neil Diamond, Procol Harem, Buffalo Springfield, Jefferson Airplane, The Rolling Stones, The Monkees, and of course, Bob Dylan.
The evening also includes a silent auction with all proceeds going to support The Brad Delp Foundation. The BDF works to promote music education and music therapy for children and adults with disabilities. Most recently, the BDF has given a grant of $20,000 to the Mount Zion Christian School to begin a music program for students in kindergarten through high school.
This is the 8th Annual Bob Dylan Birthday Bash and each year has been bigger and better than the last. Last year's event sold out in under two weeks, so get your tickets early!
Website / Facebook