Featured Events

Even though
Roomful of Blues'
lineup has changed over the years, the band has always been one of the tightest, most joyful blues ensembles in the world. Currently an eight-piece unit led by guitarist Chris Vachon, the band has never sounded fresher or stronger. In 2010, singer Phil Pemberton took over the vocal duties, bringing his sweet and soulful vocals and adding another bright new dimension to the jazzy, jump-blues musical roots. Their winning combination of jump, swing, blues, R&B and soul remains their calling card, as does their ability to fill the dance floor. Along with new members, bassist John Turner, trumpeter Doug Woolverton, drummer Chris Rivelli, and keyboardist Rusty Scott, and longtime members baritone and tenor saxophonist Mark Earley, tenor and alto saxophonist Rich Lataille, Roomful keeps on rockin' in 2013.
Roomful.com
Buy Tickets

Between his huge, blast-furnace sound, his larger-than-life personality, and his massive frame, Grammy Award-winning blues harmonica master
James "Mr. Superharp" Cotton
is a blues giant in every respect. Cotton has recorded almost 30 solo albums.
The New York Daily News calls Cotton "the greatest living blues harmonica player." The New York Times adds, "Cotton helped define modern blues harmonica with his moaning, wrenching phrases and his train-whistle wails." His eyes light up when he talks about his band, "My audience always tells me how I'm doing. If I look out there and don't like what I see, I work harder." His audiences are still on their feet, they enjoy themselves as much as he does, and there are still standing ovations night after night. You will have a memorable evening with an international treasure and a true Living Legend of the Blues.


"We're talkin about the blues, loud and fast and getting down dirty, we're talkin about James Cotton "Harp-Player extraordinaire" -New York Daily News.
Buy Tickets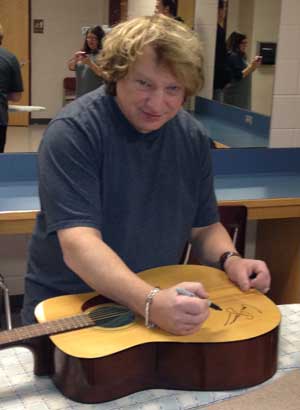 Join Tupelo Music Hall in raising funds and awareness for the American Cancer Society!
Lou Gramm, lead singer and song co-writer of FOREIGNER was responsible for classic hits such as "I Want To Know What Love Is", "Cold As Ice", Feels Like The First Time", and many others.
How cool would it be to have a guitar signed by Lou Gramm?

We are raffling a guitar that he signed at our recent concert with him.
Tickets are only $10 and are limited to 200 so get yours now!

One we reach 200 tickets sold, we will randomly select a winner!
Good Luck!
Buy Tickets
UPCOMING
Event
Date & Time
Venue

The Blind Boys of Alabama

8:00 pm

Tupelo Music Hall




Londonderry

,

NH

Buy Tickets



Roomful of Blues

8:00 pm

Tupelo Music Hall




Londonderry

,

NH

Buy Tickets



James Cotton

8:00 pm

Tupelo Music Hall




Londonderry

,

NH

Buy Tickets



Southside Johnny and The Poor Fools

8:00 pm

Tupelo Music Hall




Londonderry

,

NH

Buy Tickets



Howie Day

Justin Levinson opens for Howie Day

8:00 pm

Tupelo Music Hall




Londonderry

,

NH

Buy Tickets



James Hunter

Jesse Dee opens for James Hunter

7:00 pm

Tupelo Music Hall




Londonderry

,

NH

Buy Tickets



Ottmar Liebert and Luna Negra

8:00 pm

Tupelo Music Hall




Londonderry

,

NH

Buy Tickets



The Wood Brothers

Ashleigh Flynn opens for The Wood Brothers

8:00 pm

Tupelo Music Hall




Londonderry

,

NH

Buy Tickets



Tupelo Night of Comedy

Featuring George Hamm, Tom Gilmore, and Anthony Scibella

8:00 pm

Tupelo Music Hall




Londonderry

,

NH

Buy Tickets



Marcia Ball

8:00 pm

Tupelo Music Hall




Londonderry

,

NH

Buy Tickets



James Montgomery Band with Barrence Whitfield

8:00 pm

Tupelo Music Hall




Londonderry

,

NH

Buy Tickets



Frank Santos

R Rated Hypnotist Frank Santos

8:00 pm

Tupelo Music Hall




Londonderry

,

NH

Buy Tickets



The Psychedelic Furs

8:00 pm

Tupelo Music Hall




Londonderry

,

NH




Os Mutantes

8:00 pm

Tupelo Music Hall




Londonderry

,

NH

Buy Tickets



Boston All Star Blues Revue

featuring Brian Templeton, Matthew Stubbs, Cheryl Arena, Travis Colby and Mr. Nick & the Dirty Tricks!

8:00 pm

Tupelo Music Hall




Londonderry

,

NH

Buy Tickets



John Eddie

8:00 pm

Tupelo Music Hall




Londonderry

,

NH

Buy Tickets



Rock for Heroes

To benefit the Wounded Warrior Project

7:30 pm

Tupelo Music Hall




Londonderry

,

NH

Buy Tickets



Tupelo Night of Comedy

Featuring Tony V and Carolyn Plummer

8:00 pm

Tupelo Music Hall




Londonderry

,

NH

Buy Tickets



Frank Vignola and Vinny Raniolo

7:00 pm

Tupelo Music Hall




Londonderry

,

NH

Buy Tickets



Open Mic Night

Featuring Merrily James

7:00 pm

Tupelo Music Hall




Londonderry

,

NH




Albert Cummings

8:00 pm

Tupelo Music Hall




Londonderry

,

NH

Buy Tickets



The Fools

8:00 pm

Tupelo Music Hall




Londonderry

,

NH

Buy Tickets



Vienna Teng

Alex Wong opens for Vienna Teng

7:00 pm

Tupelo Music Hall




Londonderry

,

NH

Buy Tickets



Chris Smither

8:00 pm

Tupelo Music Hall




Londonderry

,

NH

Buy Tickets



Americana Unplugged

Featuring Amy Black, Ward Hayden, and Sarah Borges

8:00 pm

Tupelo Music Hall




Londonderry

,

NH

Buy Tickets



Jeffrey Gaines and Jann Klose

7:00 pm

Tupelo Music Hall




Londonderry

,

NH

Buy Tickets



The DUHKS

8:00 pm

Tupelo Music Hall




Londonderry

,

NH

Buy Tickets



Jake Shimabukuro

Jake Shimabukuro with Tripping Lily opening

8:00 pm

Tupelo Music Hall




Londonderry

,

NH

Buy Tickets



Big Country

8:00 pm

Tupelo Music Hall




Londonderry

,

NH

Buy Tickets



New Riders of the Purple Sage

8:00 pm

Tupelo Music Hall




Londonderry

,

NH

Buy Tickets



David Bromberg

David Bromberg Quintet

8:00 pm

Tupelo Music Hall




Londonderry

,

NH

Buy Tickets



Nick Lowe

Kim Richey opens for Nick Lowe

8:00 pm

Tupelo Music Hall




Londonderry

,

NH

Buy Tickets



Nick Lowe

Kim Richey opens for Nick Lowe

8:00 pm

Tupelo Music Hall




Londonderry

,

NH

Buy Tickets



Shawn Mullins

8:00 pm

Tupelo Music Hall




Londonderry

,

NH

Buy Tickets



Leon Redbone

8:00 pm

Tupelo Music Hall




Londonderry

,

NH

Buy Tickets



Smokin' Joe Kubek and Bnois King

8:00 pm

Tupelo Music Hall




Londonderry

,

NH

Buy Tickets



J. Geils Jazz Quintet

8:00 pm

Tupelo Music Hall




Londonderry

,

NH

Buy Tickets



Jamie Lynn Hart and Mieka Pauley

8:00 pm

Tupelo Music Hall




Londonderry

,

NH

Buy Tickets



Jonathan Edwards

Chelsea Berry opens for Jonathan Edwards

8:00 pm

Tupelo Music Hall




Londonderry

,

NH

Buy Tickets



Aaron Carter

At The Stockbridge Theatre in Derry, NH

7:00 pm

Tupelo Music Hall




Londonderry

,

NH

Buy Tickets



David Wilcox

8:00 pm

Tupelo Music Hall




Londonderry

,

NH

Buy Tickets



The Stompers

8:00 pm

Tupelo Music Hall




Londonderry

,

NH

Buy Tickets



BoDeans

8:00 pm

Tupelo Music Hall




Londonderry

,

NH

Buy Tickets



BoDeans

7:00 pm

Tupelo Music Hall




Londonderry

,

NH

Buy Tickets



Lucy Kaplansky

Joe Young opens for Lucy Kaplansky

8:00 pm

Tupelo Music Hall




Londonderry

,

NH

Buy Tickets



Seth Glier and Antje Duvekot

7:00 pm

Tupelo Music Hall




Londonderry

,

NH

Buy Tickets



Colin Hay

At The Stockbridge Theatre in Derry, NH

8:00 pm

Tupelo Music Hall




Londonderry

,

NH

Buy Tickets



Jeff Pitchell and Texas Flood

With Special Guest Guitarist Johnny A

8:00 pm

Tupelo Music Hall




Londonderry

,

NH

Buy Tickets



Melanie

8:00 pm

Tupelo Music Hall




Londonderry

,

NH

Buy Tickets



Candye Kane

8:00 pm

Tupelo Music Hall




Londonderry

,

NH

Buy Tickets



Adrian Legg

8:00 pm

Tupelo Music Hall




Londonderry

,

NH

Buy Tickets



Paul Thorn Band

Paul Thorn Band

8:00 pm

Tupelo Music Hall




Londonderry

,

NH

Buy Tickets



Jon Butcher

8:00 pm

Tupelo Music Hall




Londonderry

,

NH

Buy Tickets



American Cancer Society Guitar Raffle

Signed Guitar by Lou Gramm, lead singer of Foreigner!

5:00 pm

Tupelo Music Hall




Londonderry

,

NH

Buy Tickets



The Tubes

8:00 pm

Tupelo Music Hall




Londonderry

,

NH

Buy Tickets



Lori McKenna

8:00 pm

Tupelo Music Hall




Londonderry

,

NH

Buy Tickets



Open Mic Night

Featuring Cosy Sheriden

7:00 pm

Tupelo Music Hall




Londonderry

,

NH




Andy McKee

7:00 pm

Tupelo Music Hall




Londonderry

,

NH

Buy Tickets



The Smithereens

8:00 pm

Tupelo Music Hall




Londonderry

,

NH

Buy Tickets



The Smithereens

8:00 pm

Tupelo Music Hall




Londonderry

,

NH

Buy Tickets



Acoustic Alchemy

8:00 pm

Tupelo Music Hall




Londonderry

,

NH

Buy Tickets



Ellis Paul

Ellis Paul's Holiday CD Release Show

8:00 pm

Tupelo Music Hall




Londonderry

,

NH

Buy Tickets