The Flatlanders
(
Joe Pug
Opens)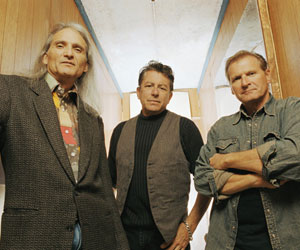 Almost 30 years ago, the three singer/songwriter/guitarists - Ely, Hancock and Jimmie Dale Gilmore - helped pave the way for today's trendy alt-country movement with a novel amalgam of country, folk, blues and rock styles. Hooking up in their early 20s in Lubbock, Texas (birthplace of Buddy Holly), the roommates wrote and played music together for friends, going public only when they got desperate... –
jimmiegilmore.com
Until the 1990s, the Flatlanders — Joe Ely, Jimmie Dale Gilmore, and Butch Hancock — were little more than a rumor. A short-lived band from Lubbock, Texas, they produced one recording in 1973 that never got beyond a failed radio single and an eight-track cassette. They were the country-music equivalent of punk-rock legends Rocket from the Tombs — more often heard about than heard, their reputation enhanced by their subsequent individual careers. Then in 1990, Rounder released those early recordings as More a Legend Than a Band, and Robert Redford asked the Flatlanders to reconvene to perform a song on the soundtrack to the 1998 film The Horse Whisperer. In 2002 came a new album, Now Again (New West), and extensive touring. And now there's Wheels of Fortune (also New West).
The original Flatlanders album is treated among fans as a holy relic, and it's easy to understand why. It was like nothing else in country music at the time — not like the mainstream Music Row big productions of Loretta Lynn, Conway Twitty, and Tammy Wynette, not even like the more rock-and-roll-influenced "outlaw" music of Waylon Jennings, Kris Kristofferson, and Willie Nelson. "They tried to put that on us," says Joe Ely of the "outlaw" label over the phone from his home in Austin. "We really didn't fit. That was something that was going on in Austin in the middle '70s. But up in Lubbock where we were, it was just a whole different kind of a feeling, you know? Even though we too were not accepted by Nashville radio, we did not feel real associated with 'outlaw' — we were kind of the in-laws." –
The Boston Phoenix

Joe Pug




"In Pug's hard plucking, exaggerated choruses, and lyrical vignettes you can draw a pretty straight line from Woody Guthrie to Bob Dylan to Johnny Cash to Bruce Springsteen to Steve Earle to Josh Ritter. Like all of them, Pug is a populist at heart, a singer who can't help but talk about all of us when he sings about himself and can't help but sing about himself when he's talking about all of us......"Hymn 101" is full of lines that will fill you with both heartbreak and euphoria. It's good to be reminded that that's why we listen to music in the first place." - 3Hive (May 14, 2008)


A $3.00/per person BYOB fee will be collected at the door and WILL ONLY affect our guests who chose to bring in
their own Beer or Wine to Tupelo. We will simply ask you how many people in your party will be drinking and charge you accordingly.